Confluent
From Verify.Wiki
Confluent is an American big data company found by three LinkedIn Engineers led by Jay Kreps. It is focused on the open source Apache Kafka real-time messaging technology that Kreps, Neha, and Jun created and developed. Confluent has marked a record in the Stream Analytics that provide immediate access to key business intelligence insights through real-time data exploration.
Kafka, the project started for Linkedin in the year 2010, is built to handle all the data flowing through a company and to do it in near real time. Kafka is often used as a central repository of streams, where events are stored in Kafka for an intermediate period of time before they are routed elsewhere in a data cluster for further processing and analysis.
Netflix, Airbnb, Hotels.com, Uber, Spotify, Cisco, Goldman Sachs, Wal-Mart, etc. uses Kafka for real-time analysis. Kafka is now widely adopted by Financial service firms to reduce Credit Card fraud. [2]
Since the launch in 2014, the company has raised nearly $31 million in venture capital funding. Confluent's business is built around open source software but premium versions with added capabilities for a fee. Confluent also provides technical consulting and Training as service to its customers.
Products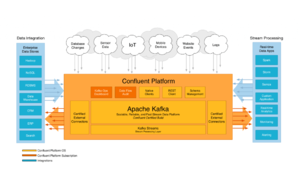 Confluent Platform enables all the interfaces to the world to be connected to make the decision with all the internal systems in real time.Kafka allows you to move data across the company and make it available as a continuously free-flowing stream within seconds. Using Kafka's plugins, enterprises can also connect their existing database systems with these tools, which allows them to leverage these new technologies without having to switch to a new database platform.
Confluent Platform 2.0 was introduced with an updated Apache Kafka 0.9 core, that had the multi-tenant operation, simplify development and maintenance of applications that produce or consume data in Kafka, and provide high-throughput, scalable data integration with a wide array of data sources.
Confluent Platform 3.0 is the latest version of the confluent platform which has a comprehensive management system for Apache Kafka with a Confluent control center to help data engineering teams operationalize Kafka throughout their organization.
History
September 2014 - Confluent was founded by three Engineers who spun off from LinkedIN. [3]
Deceber 2015 - Raised $24 million Series B Round & Confluent Platform 2.0 was announced. [4].
May 2016 - Confluent Enterprise 3.0 was announced [5]
Awards & Recognitions
Top 5 Recent Tweets
| Date | Author | Comment |
| --- | --- | --- |
| April 17, 2023 | PeterCorless | I spy with my little eye... a @startreedata logo + @ApachePinot! Plus so many other favorite techs: Streaming:… https://t.co/11fQTtaAlX |
| April 17, 2023 | rajkrsen | @PeterCorless @startreedata @ApachePinot @confluentinc @streamnativeio @redpandadata @debezium @EstuaryDev… https://t.co/1gijp9iSxc |
| April 06, 2023 | Ockam | Ockam is one of the fastest growing #opensource #security projects. Today we launched Orchestrator. It has the sca… https://t.co/wYVVuHzb63 |
Top 5 Recent News Headlines
Top 5 Lifetime News Headlines
New Survey Benchmarks Meteoric Rise of Apache Kafka Across the Enterprise and Spotlights Cross-Industry Shift to Stream Processing - 88 Percent of Survey Respondents Say Kafka Will Be Mission-Critical to Their Data and Application Infrastructures by 2017. [15]
How Apache Kafka is greasing the wheels for big data- Analytics is often described as one of the biggest challenges associated with big data, but even before that step can happen, data has to be ingested and made available to enterprise users. [16]
The Real-Time Rise of Apache Kafka - Confluent has made two big product launches in the past few months that extend Kafka's functionality and make it easier to use, including Kafka Streams and Kafka Connect, both of which are available in Kafka version 0.9. [17]
References