Diagnosearch
From Verify.Wiki
DiagnoSearch Life Sciences is one of the most experienced full-service CROs in India. Since its inception in 1995, DiagnoSearch has built a substantial track record of supporting hundreds of global clinical development programs across a broad therapeutic spectrum.
About
DiagnoSearch's unique, first of its kind data review platform 'Wide Angle Data' integrates seamlessly with several internal and external data sources to facilitate comprehensive single-window data review and real-time risk identification, thus minimizing the time required for risk mitigation. This, along with their highly skilled and stable team ensures that clients can rely on DiagnoSearch for high quality of service, optimal adaptation of technology, responsiveness and cost-effectiveness.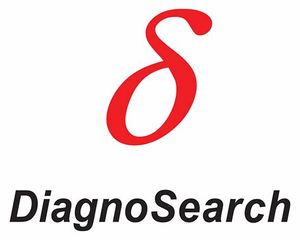 Medical Services- "At the HEART of it All"
DiagnoSearch Life Sciences is one of the most experienced full-service CROs in India. Since its inception in 1995, DiagnoSearch has built a substantial track record of supporting hundreds of global clinical development programs across a broad therapeutic spectrum.A successful clinical trial is backed by medical wisdom at every step. Be it the 'study start-up phase', the 'thick of the study' or the 'end of the study', the Medical Affairs Team at DiagnoSearch lies "at the HEART of it all" supporting a clinical trial right from the time a study takes off until its conclusion. Their Medical Team boasts of a well spread-out therapeutic area experience extending across key areas such as Metabolic Disorders/ Endocrinology, Oncology, Cardiovascular Diseases, Neurosciences, Infectious Diseases, Immunology, Vaccines and others. In addition to the regular Medical Monitoring and Pharmacovigilance services, their Medical Team also specializes in risk based approach to Medical Monitoring and has an important role to play in Project Risk Management. Their Team leverages its vast clinical trial experience to predict the project risks right at the beginning of a study. It also performs a real time, focused algorithmic review of integrated data and patient profiles emanating throughout the clinical trial to identify issues, trends and potential risks, feeding the live risk engine constantly.
Although significantly interlinked, they categorize their Medical Services as:
Medical Monitoring
Safety and Pharmacovigilance
Medical Writing Services
Founding Principles and Beliefs:
Quality comes first Our customers and their requirements are always the focal points Innovation & continuous improvement is critical to our success We value our reputation We uphold ethics and integrity in everything we do We operate in full compliance with worldwide regulatory standards including ICH-GCP guidelines and country-specific regulations
Safety and Pharmacovigilance
At DiagnoSearch, they understand that patient safety is paramount in a clinical trial and takes the highest precedence. Their Safety Team, comprising of skilled medical and safety experts are available 24/7, 365 days a year for vigilant and thorough Safety Monitoring. Enriched with first-hand knowledge of complex global regulatory requirements, DiagnoSearch offers a vast range of Safety Services across all phases of clinical trials which can be specifically tailored to cater to the partner's needs:
Dedicated and uninterrupted 24/7, 365 days safety desk
Development and implementation of a customized Safety Management Plan (SMP)
Development of study specific SAE / Adverse Event of Special Interest (AESI)/ Pregnancy Reporting Forms
Investigator Team training on Safety Reporting
Continued support to sites on safety related queries
Setting up and maintenance of Safety Database (Oracle ARGUS /DiagnoSearch Safety Database)
Case processing in Safety Database including data entry, primary review and medical review of SAEs
SAE assessments including causality assessment, evaluation of expectedness of the event to identify SUSARs and determine requirement of expedited reporting
Development of comprehensive SAE narratives
Generation and expedited reporting to Regulatory Authorities
SAE data review to detect events of similar nature for expedited reporting
Identification of safety signals and safety trends
Generation of Safety Trackers
SAE Reconciliation
Clinical Operations
At DiagnoSearch, they strongly believe that a sound knowledge-base, meticulous planning and seamless execution in compliance with applicable regulations is critical to the success of each clinical trial. For us, at DiagnoSearch, every single project is uniquely important and requires a dedicated and focussed team spearheaded by leaders with appropriate experience and commitment. Services Offered
Clinical Trial Management
Feasibility and site selection
Core documents review and finalization
Regulatory support
Project Management
Monitoring - Site Initiation, Site Monitoring and Close-out
Site Management
Investigational Product Management
Preparation of Investigational Product Management Plan
Finalization and coordination with comparator procurement organisations
Finalization and management of labelling and packaging vendors
Ensure availability of site supplies as per recruitment and subject progression
Third Party Vendor Management
Evaluation of vendors
Vendor management
Vendor audits
Risk Management
Quality by design processes; Risk Management as a core competence
Structured framework
Development of Risk Management Plan
Customized algorithms and tolerance limits specific to therapeutic area, indication, class of drug and phase of study
Risk Identification - thorough data scrutiny employing data reduction techniques for anomalies, outliers, trends, concerns, and issues
Risk Evaluation - on a real-time basis and categorization of risk, assess effect of uncertainty on objectives
Risk Analysis - using an algorithmic approach and deliberation by a team of cross-functional experts
Risk Control - including risk reduction or mitigation
Well-trained,experienced Risk Managers
A cross-functional team approach to Risk Management
Life cycle approach to Risk Management right from project initiation and continuous Risk Monitoring throughout the project
Continuous, real-time tracking of metrics and reporting
Quality Assurance
Quality Assurance is the backbone of the Quality Management System. They believe that focus on quality starts from laying a strong foundation of robust Standard Operating Procedures (SOPs) which comply with all the applicable regulations, guidelines and standards. At DiagnoSearch, quality is everybody's responsibility with an emphasis on 'Right the First Time' approach. The Quality Assurance (QA) Team at DiagnoSearch is independent of all functions. QA is involved in maintaining efficient and compliant SOPs including the ones required for accreditation standards. It is instrumental in conducting training programs and workshops to enhance learning. Internal Audits conducted by the QA Team at DiagnoSearch verify compliance with SOPs and documented project specific requirements to identify any noncompliance, assess root cause, implement Corrective And Preventive Actions (CAPA) and identify opportunities for quality improvement. The Internal Audits and Investigator Site Audits conducted by the QA Team contribute towards the identification of trends and unforeseen potential risks, which are integrated into the project specific Risk Management Plan, along with mitigation strategies.
Link