VerifyWiki:Certificate in Mobile Ad Networks Industry Overview
From Verify.Wiki
Verify.Wiki's Certificate in Mobile Ad Networks Industry Overview (free) has helped hundreds of candidates excel in job interviews and land jobs in Fortune 1000 companies. In this program, instead of learning about the theory, you learn about the industry and companies who are in the business of mobile ad neworks, which provides students a new practical perspective on "Mobile Ad Networks". The transparent and collaborative nature of Verify.Wiki's courses provide instant credibility to candidates, helping them do better above all others who apply for a job with a generic theoretical background.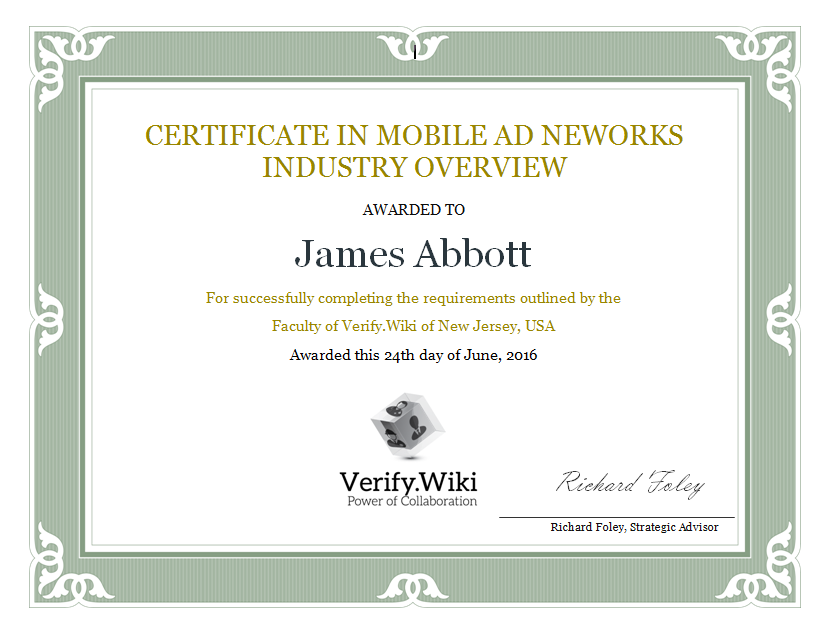 STEPS TO RECEIVE THE CERTIFICATION
SELF LEARNING
COURSE WORK
Create a page for a company by contributing a minimum of 1000 words of new content by picking a company from http://verify.wiki/wiki/Mobile_Ad_Networks#Companies_providing_Ad_Network_Platforms
You can create or edit a company by just clicking on the link of a company in http://verify.wiki/wiki/Mobile_Ad_Networks#Companies_providing_Ad_Network_Platforms
You can edit an existing company by just clicking the edit link of a company (found on top right corner of the page)
If you feel a company name is missing, you may add to Mobile_Ad_Networks and work on the company page
You may also modify an existing company page by adding or modifying a minimum of 1000 words
Do not simply cut and paste content from other websites. You need to write in your own words
Maintain a neutral point of view. Your words should not look like an advertisement for a company
Modifying or correcting someone else's contribution will also count towards your coursework
Provide enough references for your points and contributions
You can claim your contributions as project experience in your resume
COLLABORATION
Invite peers or fellow students to verify your edits.
Receive at least 5 verifications for your individual edits from others
Provide a minimum of 5 verifications for individual edits of others
CERTIFICATION
Once completed, send an email to reference@verify.wiki with a link to your profile page. Our expert team will evaluate your coursework and quiz results and provide you the certification and a job recommendation
Do I have to pay a fee to participate in the program?
No. the program is FREE for everyone
Why is the program free?
Verify.Wiki makes money by referring and placing potential candidates who excel in the program to companies.
Why are companies interested in candidates who are certified by Verify.Wiki?
Verify.Wiki provides companies a platform to evaluate a candidate in the following areas.
Understanding of the big picture of a topic by learning about companies rather than the theory of a subject
Ability to work within a collaborative culture
Ability to argue about facts in a productive manner
Ability to work with people they have never met before
Ability to research outside of Wikipedia for facts
Willingness to make others successful
Do you have tutorials on how to edit and verify articles?