Ahmad M. Alsayes
From Verify.Wiki
Summary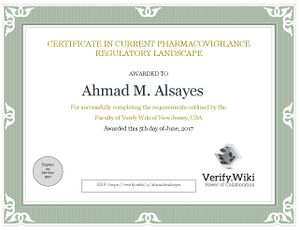 I'm an M.D. (Internal Medicine), with Master of Science in Medical Informatics.
Also a Medical researcher, a Clinical trials adviser, and a PubMed Expert.
Skills
• Medical advice / Second opinion in ophthalmology and family medicine
• Medical articles and reviews (English or Arabic)
• Summarizing medical reports and scientific papers
• Clinical trials advisory
• PubMed advisory
• Medical translations (English to Arabic / vice versa)
Job History
Education History:
* Bachelor of Medicine, Bachelor of Surgery (M.B.B.S.), Medicine | Faculty of Medicine - Alexandria University.
2004 - 2010
* Master of Science (M.S.), Master of Health Informatics | Egyptian Ministry of Health (MoH) Fellowship Board & the Information Technology Institute (ITI)
2016 - 2018 (expected)